The Need Has Never Been More Urgent!
Support CJR by Becoming a Member Today.
Show your support for CJR's role as media watchdog and advocate for a sustainable, viable and free press by becoming a Charter Member.
Your Charter Member Benefits
Subscription to the Print Magazine
Members-Only eNewsletter
Quarterly Updates from the Editor
Invitations to select CJR Events
Members-Only Monthly Call-in with the editor
COMING SOON Exclusive, Members-Only Benefits:
Listing on our membership page in recognition of your support for the CJR mission
Exclusive CJR content and resources, including the popular "Who Owns What" database
Members-Only Group Forum, a place for CJR members to discuss what's on their minds, ask questions, and share experiences
Members-Only Discounts at other CJR-affiliated organizations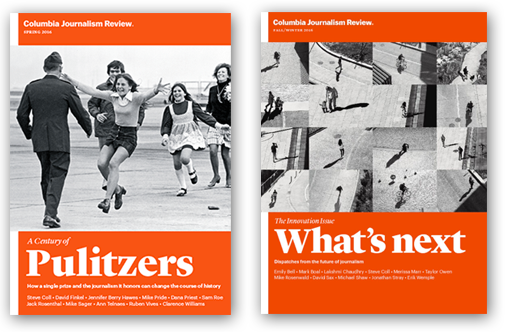 Print issues are published spring/summer and fall/winter. You should receive your first issue within a few weeks of joining. If you encounter any problems, you may call customer service at 1-888-425-7782.
YES!
Please start my membership to
Columbia Journalism Review.
I'll receive one year for only $50.00
United States | 12 months for $50
Canadian and International orders add $25.