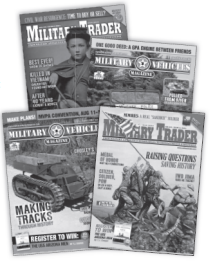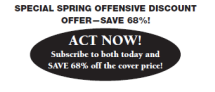 Military Trader is the LARGEST military–related marketplace in print with reports on all–era military artifacts,insignia, field gear, helmets, ephemera and weapons. You'll receive updates on trends in the field with adsfrom the foremost dealers and auction houses and the most complete, current show directory in the hobby. Included in your 13 issue subscription is the Annual Bonus Issue – packed with insider tips and preservation secrets to help you get the most out of your collection! 1 Year (13 issues) only $16

Military Vehicles Magazine, the most authoritative voice of the historic military vehicle hobby, reporting tech and restoration tips, historical data, user info, show reports and identifying sources for vehicles, parts and tools. If you have olive drab running through your veins, this is your #1 "go-to" source! Order today and your subscription also includes the Ambassador Issue – a comprehensive guide to the military vehicle hobby–filled with articles for the prospective and veteran hobbyist alike with price guides, what to look for when buying a MV to picking the right insurance, tires, licensing tips and the top 20 MV. This special issue is packed full of must–know information if you own or plan on purchasing a military vehicle! 1 Year (7 issues) only $20

SPECIAL SPRING OFFENSIVE DISCOUNT OFFER—SAVE 68%!
1-year subscription (13 issues) to Military Trader PLUS a
1-year subscription (7 issues) to Military Vehicles–ONLY $36!
Canadian orders add $18 for postage & handling. Orders outside the U.S. and Canada add $26 for postage & handling.
Savings based on a combined annual newsstand price of $119.28. MILITARY TRADER publish 13 issues a year and MILITARY VEHICLES publish 7 issues a year.
If you prefer to only subscribe to MILITARY TRADER, please click here.
If you prefer to only subscribe to MILITARY VEHICLES, please click here.