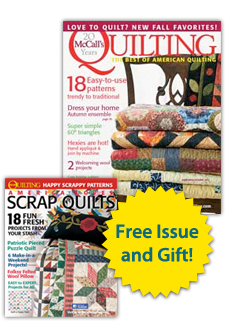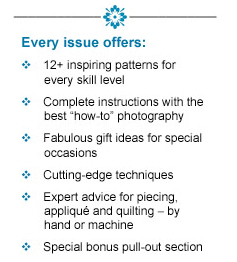 Prefer to subscribe to digital-only?
Click here



YES! Please send my FREE Preview Issue of McCall's Quilting right away!
If I love it and choose to subscribe, I'll get five more great issues (6 in all) for just $16.98 + $3 p&h — a savings of 44% off the newsstand price! If not, I'll write "cancel" on the bill, return it and owe nothing. The FREE issue is mine to keep no matter what!

INSTANT GIFT: I'll also receive a FREE bonus issue instantly! A $5.99 value, America Loves Scrap Quilts contains 18 fresh, fun projects for using your stash.

*Offer valid in the U.S. only. Outside the United States Click here.

*Savings based on an annual newsstand price of $35.94.
McCall's Quilting
is published 6 times a year.
Rate valid in the U.S. only.