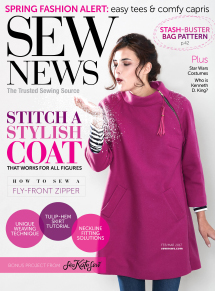 Know More To
Sew More!
Get inspiration delivered to your door by subscribing to Sew News magazine. Each issue is packed with fun projects, timeless techniques and expert advice to help you create original garments, accessories, gifts, home décor and more.

With 30 years under its belt, Sew News is the trusted sewing source that provides beginning to advanced sewers the tools they need for successful stitching every time.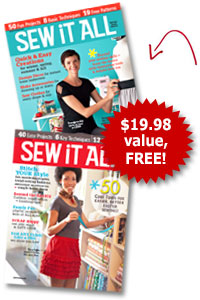 If I love it, and choose to subscribe, I'll get five more great issues (6 in all) for the low price of just $21.98. If not, I'll write "cancel" on the bill, return it and owe nothing. The FREE issue is mine to keep no matter what.
*Trial issue valid in the U.S. only.

---
100% Satisfaction Guarantee
If you are ever not 100% satisfied, at any time, you may cancel your subscription and receive a full refund for all unmailed issues.

Sew News publishes 6 times a year. The annual newsstand price is $35.94. In Canada: 6 issues/U.S. $27.98. Rate does not include applicable taxes. Outside the U.S. and Canada: 6 issues/U.S. $33.98.